Cultural Exchange
From GALATA TO TAJ MAHAL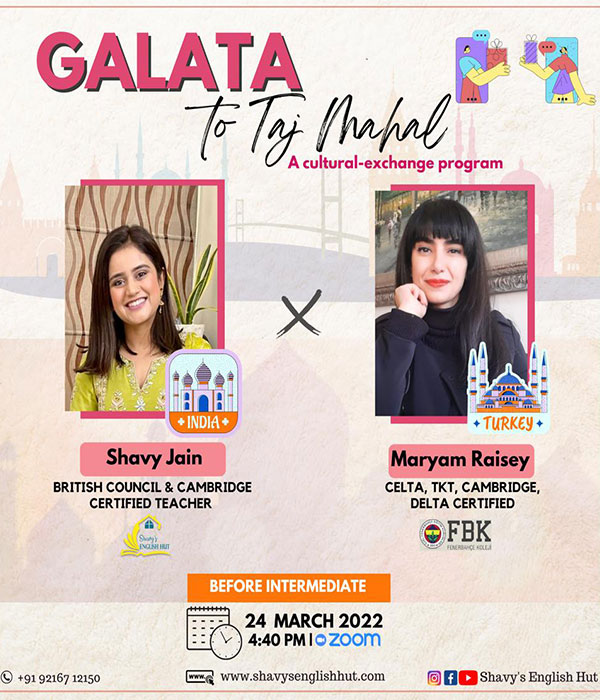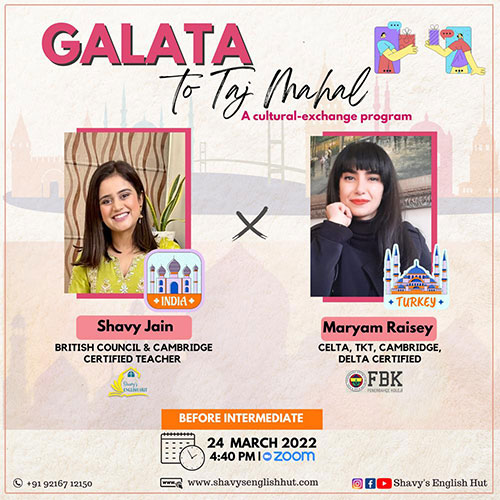 Our students (8-9 years old) actively participated in cultural exchange with students from Turkey on 24th March 2022. They talked about the famous tourist spots of India. We rehearsed for the session with a beautiful presentation which was delivered confidently by our students on the day of exchange. Have a look at our script for that day-
Vivaan Vij: Hello everyone! Welcome on board. We are excited to welcome our Turkey friends to explore incredible India. The Indian Travellers are going to take you from Galata to Taj Mahal
I am Tehzeeb, a traveller, a tourist guide to make you travel through the various significant tourist places of India. cOOOOO chhhuk chhhuk ! Have you packed your luggage, taken your tickets and passport, all set with your glares and binoculars. Here we go!! This journey is not going to be a boring one, but full of excitement.
Aanvi what comes to our mind when we think of India? A little bit of messy and cluttered streets maddening with people all around. On the flip side, off the beaten tracks in the untrodden regions of Himalayas and down south. The untouched naive beauty is even more captivating than heaven I would say.
Myra: The new India is not what is shown on BBC, Google and past movies, the pictures of poor and down and out people. On the flip side, India is growing and nurturing as a global power. There is a new wave in India in all its fields like, IT sector, economics and commerce, agriculture, a new beginning of various startups by young and mindful generation. Upcoming revenue generator is increasing interest in tourism of india
Dhruvin: So my friends from Turkey, here's a warm up for all of us. A quick brain trigger.
Riddle time
WWhat can travel all around the world without leaving its corner?
Any guesses, a bird, plane, stamp and wind.
Well the correct answer is Stamp. Have you ever seen stamps. Here are they!
Khushboo: Friends fasten your seat belt, oh no no not of the aeroplane seat but of the car. Hit the road from Punjab, Ludhiana to Amritsar, where we are going to see the Harminder Sahib Golden temple.
Naira India with its people believing in varied religions visit this pious place for their wishes, dreams,desires and shukrana-gratitude to the divine. In the picture, we can see the sacred gurudwara, with their symbol Nishaan Saahib.
Kavish: This is Sikh religious place where a book Guru Granth Sahib is worshipped. A place where lakhs of people eat food everyday, even huge donations are made to make someone's day.
As you can see in the video it is covered with a thin film of gold donated by people all around the world.It is a feast to our eyes. Isn't it friends?
Tehzeeb: I have an itchy foot to see the most famous Thar desert known as the Golden City in the heart of Rajasthan- Jaisalmer. It is believed to be the most civilized desert dated back to thousands of years having roads and human settlements.
AAnvi: The subtle grains of sands compliment the ravishing havelis and splendid temples, rooftops with epic views and radiance of setting sun. The city is alive with traditional music, puppet shows and striking sights of camel rides.India is always known for its carvings and architecture and what more marvellous can be to behold and gaze with awe at the famous Dilwara Temples of Mount Abu.
Aarush: Can you even believe that huge blocks of marble were transported on elephants on the hill? All this was done when no transport was available, centuries ago.
Aviraj: my eyes are glistening seeing the ornamental details of marble stone which is unmatched to any other monument I have ever seen. India is too extraordinary.
ADHIRAJ: My friend Arjun and I were travelling towards the sacred city of Haridwar where millions of people visit to have a holy bath in Ganga when he shared his incident of Ganga Ghat. He spoke up that when he first attended the aarti at Hari ki pauri he could feel the presence of some energy in the atmosphere around.
Gurditvir: Even I have attended and the evening is just blissful with all diyas and flowers floating in water and huge aarti figures going up and down reflecting in water.
Arjun: What a mesmerising sight! Pleasing to heart and soul. Roaming through the crowded and cramped streets we had the world's tastiest pooris and kachori. Oh! When my tummy is tight and the weather is bright, friends around can make plans that are profound.
Aarushi: What next, let's fasten your seatbelt and zoom to Leh Ladakh. My dream destination. The pristine and tranquil Tso Moriri lake, crystal clear but salt water. The only difficulty here is in breathing as the Oxygen level was quite low. We can forget the headaches seeing the breathtaking calm and sacred sights. The pictures are real and not filtered.
Ariha: We don't want to leave the place but the journey has just started. Way to travel.
Tell me something first
Riddle Time
I flew to Leh Ladakh and I bought a pair of shoes and a shirt. What did I buy first?
Oh that's great, I have a bunch of intelligent people with me. How are you all feeling? Exhilarated!!
Bhavya: Well, Bharat as some historians still call India with this name, why not have a look at the ancient world heritage site the Ellora Caves in Aurangabad Maharashtra. It was carved laboriously by Buddhist, Hindu and Jain monks over five centuries.
Nadia: Although the deities and idols in the caves have been damaged, the paintings, carvings remain as it is. Every nook and corner is a spot of wonder.
Taksh: After this captivating age-old monument, we have a desire to witness something latest and which has recently been constructed and made us proud and recognised in the world.
Any guesses friends. It is none other than the pride of India, the Statue of Unity of Sardar Vallabhai Patel, a freedom fighter.
Aviraj: It stands at the 52 metres high hill, the world's tallest statue of 182 metres high. We have a provision of helicopter ride, the aerial view of the statue speaks for its grandeur.
Aarushi: Riddle time. I cannot stand on my two feet
I need help from one who can
but in motion, they are superior
Our next commuting agent. Any guesses
Taksh When friends are together,
what can be better
Double-bubbles with spike
Touching the lives on bike
In my opinion, friends, the best way to change the view of your life is by changing the mode of commuting.
Adhiraj Now we can feel the most in the air, also we consume the smells and fragrances of trees and foods. Stopping at teeny weeny shops to have chai and pakoras, jalebi and poha.
Gurdivit: Next, we are on the beaches of Goa, where water is turquoise, shiny grains of sand and sky exhibits its shades at dusk and dawn. It is known for its shacks and authentic goan cuisines, children making sand castles, dancing and merrying around.
Arjun What a memorable virtual tour it is! A bunch of crazy friends from Turkey and India. Yeh Dil maange more….
Nadia: Bhavya, have you ever travelled to the far South of India? I have. The amazing thing I found in Kerala is the wide variety of plants found in one small mountain. All shades of green with different condiments, spices and ayurveda herbs in one patch.
So, let's not waste even the slightest minute and traverse towards the Periyar National Park and wildlife sanctuary Kerala. Every bird is radiant, spreading its wings to soar high, melting our ears with their melodious songs. The songs are hard to hear in metro cities.
Bhavya: It's impossible to wrap up India in such a short span of time. While returning we see lemon and chillies hanging in the shops.
Arjun : What are these Aarush?
Aarush: This is a superstition
In India people believe that hanging this wards off bad energies.
Arjun: My Dadi also believes in all this. She always advised me to have curd and sugar before leaving for exams.
Dhruvin: Good gracious! Even my mom one day turned her car back when she saw a black cat. When I asked her, she said it was bad luck.
Myra: We all have some or the other myth to discuss. My mum says it's considered a bad omen to broom in the evening. She says goddess laxmi comes to visit us at that time.
Nyra: You know friends that many people consider number 13 as an unlucky number. There is a society in our area which doesn't have a 13th floor in all it's buildings. Do you really believe in all this?
Kavish: I think Vivaan we all are having a gala time on the trip, let's cross our fingers.My mama also does touchwood when all good times are going on. Just like nazar na lagna.
Khushbo: It is almost the end of our tour and we were all busy with our chit chat and we did not realise that we have reached our final destination: Taj Mahal. It is an ivory-white marble mausoleum made by shahJahan a mughal emperor for his wife.
Tehzeeb: It is one of the 7 wonders of the world because of its grace and perfection of proportions, the geometrical designs of gardens. Beauty lies in the eyes of the beholder, probably this rule is just the other way round. King Shah Jahan spent 32 million rupees on it, which holds the most powerful testimony of love.
Taksh: Friends, do you know that Taj Mahal is taller than Qutub Minar? That too with a difference of 5 feet. This information was new to me as well. The Taj Mahal would appear to be pinkish in the morning, milky whits in the evening and golden in the moonlight. .moonlight.
Vivaan: Riddle : Whenever we travel around the world or in our country, one thing that we buy from all places. Can you guess?

We have come to an end to the ever exciting Cultural Exchange. We express our heartfelt attitude to Our Turkey friends who were cooperative and made this session a memorable one. Looking forward to more such sessions in future.